Current Crowfund: $761/month
Ongoing Crowfund: We of the Anarchy in Podcasting Network have finally created a Patreon account after gathering feedback from you, the little crows. Once again, I want to reiterate that this is not so that I can line my pockets or even so I will continue to do the show. But there are some sweet projects that you have said you want, and so we want to give them to you. A small list of the possibilities are below, but this will be an ongoing project, ever-changing and growing, and your feedback will make this what it becomes. Head over to our Patreon page and check out the plans and become part of the magic, if Raven moves you.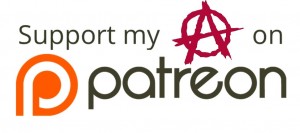 The projects that these donations will facilitate include (but are not limited to):
stickers (happening)
patches (happening)
Fake ID/Corporate ID/SINner Cards (happening)
buttons (hmmm…)
dice bags (happening)
shirts (happening)
credstick usb drives (happening)
Contact Sheets for Neo-A Personnel (happening)
musical content (happening)
whiskey glasses (happening)
Temporary Tattoos (happening)
more content
(and possibly whatever ideas you have)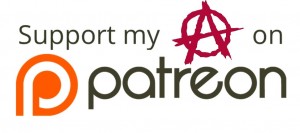 Hey crows! Thanks for donating to the Neo-Anarchist Podcast. I don't want your money for me. I want your money for you. So I won't take any money just to keep the podcast going. But there are some things you want to see that I just can't afford. So, for those, I take to the matrix to raise funds. My promises to you are legion: 1) I won't use donations for personal gain. 2) I will always tell you how much is in the crow fund at the top of this page. 3) I will be forthcoming on this page with all projects that are currently seeking funding. 4) I will treat any project you wish to see seriously. 5) All donation rewards will be met in a timely manner. 6) I will continue to be very grateful to everyone who listens, donation or no.
---
---
---
---
---
---
---
---
Current Hosted Paypal project: None. 
Achieved Project: Get Opti into the Shadowrun: Hong Kong videogame – ACHIEVED
(It looks like I will be performing another 6th world cover song)
Current Crowfund: $1062.50 (actual: $1029.41, see below)
Bring Bull, the ork decker into the game (ol' Opti is hosting this one for the chummers)
Bull Fund: $1000 (actual $971.31, see below)
(I hesitate to bring this up, but paypal is charging some sort of fee for some crows who donate. Not sure why for some and not for others. At any rate, I was going to try to pick up the slack from my personal credstick, but with the addition of Bull's fund, that might be more than I can manage. So I'll put the donation level along with the actual amount received, and of course I will honor at the level given, not the level received. If we reach $1000 donated but not received, I will try my best to gather the fees myself, but I wouldn't turn away extra donations, ha!)
(it should be noted that the rewards below are for the Crow-Funding projects only. I am simply playing host to the Bull-fund. However, if anyone REALLY wants one of the below rewards for donating, just let me know, I'll see what I can work out)
$1 – Widow's Mite:
Ghost bless you, chummer. You gave from what you had. No shame in that. Opti will utter a prayer on your behalf.
$20 – Little Crow:
You not only listen, but you took a step of faith. Kudos. Opti will be mentioning you on air soon…
$50 – Crow Shaman:
Woah. I honestly didn't expect anyone to give this much. So… I will include you as the featured runner of a particular year (first come, first served, and provided the year hasn't already been covered) You tell me the deets of your runner via some form of Matrix communications, and we'll make it awesome.
$100 – Mentor Spirit:
Omae, you had me at $100. You have gone out of your way to serve the Crowfather, and he always pays his debts. You get a special episode dedicated to the time your runner met Opti and hijinks ensued. It could be a run we were on together, a time I hired you for a run, the time you rescued me as I screamed like a little baby goat… you name it. Seriously. Thanks.
$1000 – Immortal:
Where do you get the money to do this? I won't tell anyone. But if you somehow came into enough sweet moolah to give $1000 bucks to a second rate podcaster, then you have my thanks. In addition to any of the above rewards you want, I will do 5 shows on whatever 6th world topics you like, will include you as an ongoing cast member, and if you ever happen to be in the same town as me on the same day as me, and if my schedule allows it, I will buy you a drink… or three. And we'll chat about Shadowrun. Or… you just tell me what you want, and I'll try to make it happen.